Our most popular candy! Almond butter crunch is cooked in a copper kettle, poured on a marble slab, then drenched with chocolate and sprinkled with diced toasted almonds!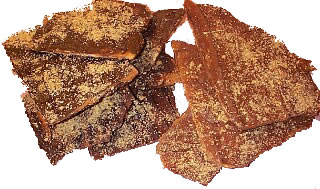 Some names people call it are Butter Crunch, Nut Butter Crunch, Butter Brickle, Butter Toffee, English Toffee and Butter Crunch Bark. No matter what you refer to it as, most people just call it the most delicious and easy-to-eat candy they have ever tasted We have a special method to our product-Let us tell you what makes our different than all the rest: We make our with Sugar, Creamery Butter and sliced thin Almonds. NO corn syrup at all. It has a crunch and snap, but is very thin and it will not break your teeth!

We make it very thin, and coat it with a fair amount of chocolate without over drenching it, and then we sprinkle on just the right amount of toasted almonds at the end, being careful not to throw off the balance and mouthfeel. Crispy, buttery and fresh! We designed our Almond Butter Crunch (or call it Butter Toffee if you prefer) to be crisp and fresh and to be eaten as a fresh product. It has a three week shelf life because it has so much butter. It is impossible for it to sit because when you start eating it you will find that it is addictive! We ship this product to all fifty states and everyone from movie stars, to famous singers, to a President of the United States has enjoyed this buttercrunch. You can't miss with this product as it is our number ONE seller.

Order early in advance of Christmas and specify your shipping date. We are often surprised by the quantity of orders we get and some of them are for over 500 lbs of the product at a time. Even if you only need one box, do not be afraid to phone us or place your order online as soon as you know Christmas is coming!!! Call us for corporate gift orders! NOTE* White Butter crunch is only available from December 1 until Dec 24! We can pack your order in One, Two, Three or Four Pound Boxes. We can even Gift Wrap your boxes for you. Just

PLEASE

don't wait until the last minute to order!